Last Day of School - Thursday, May 25th. We will follow the half day release schedule. THS releases at 12:35. Lunch will be served to all those who would like to eat.

Due to potentially icy roads and hazardous travel, Tulia ISD will have a 10:00 am start time on Thursday, January 27th. Teachers, please be careful and report to school by 9:30 am.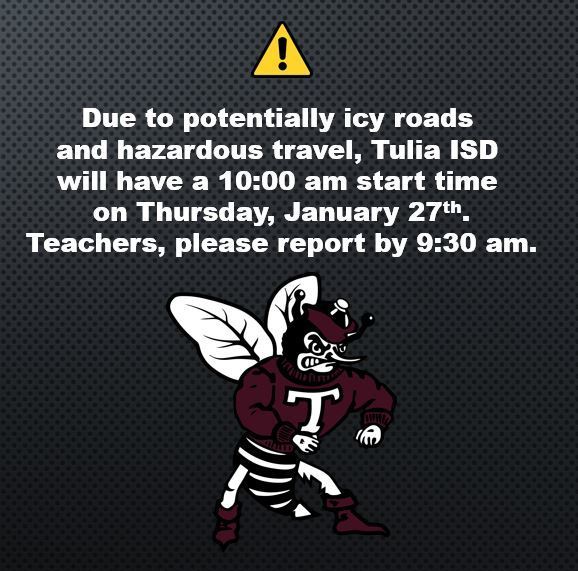 Athletic games and competitions (JH Basketball and HS Powerlifting) scheduled for tonight, January 20th, will be cancelled for safety reasons.

Friday's JV White basketball game against Dimmitt has been cancelled due to sickness on their team. The varsity boys will play Dimmitt here in Tulia at 6:00 p.m. and our girl's teams will open district play at Childress Friday night with JV Maroon at 5:00 p.m. and the varsity following.

The basketball games vs. Shallowater will be played on MONDAY, 12/20 instead of Tuesday. The game times will be as follows: JV White Boys (Aux Gym) - 11:00 a.m. JV Maroon Boys (Aux Gym) - 12:00 p.m. JV Maroon Girls (Main Gym) - 12:00 p.m. Varsity Girls (Main Gym) - 1:15 p.m. Varsity Boys (Main Gym) - 2:30 p.m.

Tulia Hornet & Lady Hornet Invitational Basketball Tournament Schedule. 3 day tournament pass is $12 and day passes are $5 each.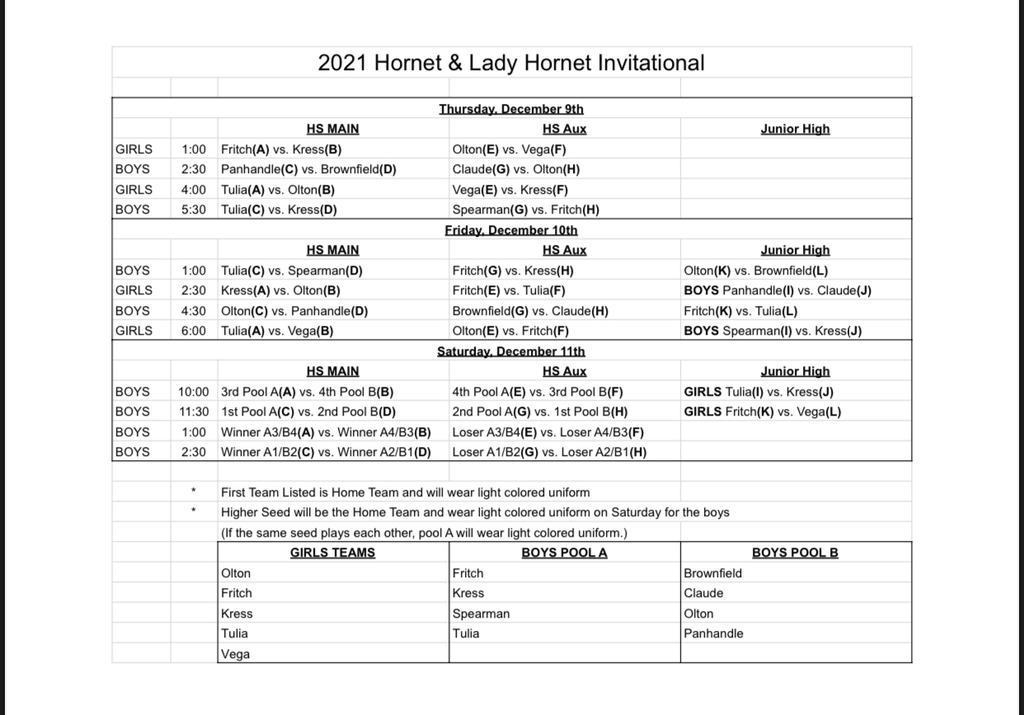 Tulia Hornet Senior Night is TONIGHT @ 6:30 P.M. Those being recognized - Football - Cross Country - Cheerleaders Parents: Please be at the Northwest corner of the football field no later than 6:15 p.m. to line up for the recognition.

Your Lady Hornet Volleyball team will be playing Bushland in a Bi-District Playoff match, next Tuesday, November 2 at 6:30 p.m. at "the box" in Canyon on the campus of West Texas A&M University. All tickets will be sold online through the GoFan website at the following link. Tickets are $5 for adults and $2 for students. Tickets will not be sold at the gate. District passes will be accepted.
https://gofan.co/app/events/428667?schoolId=TX71512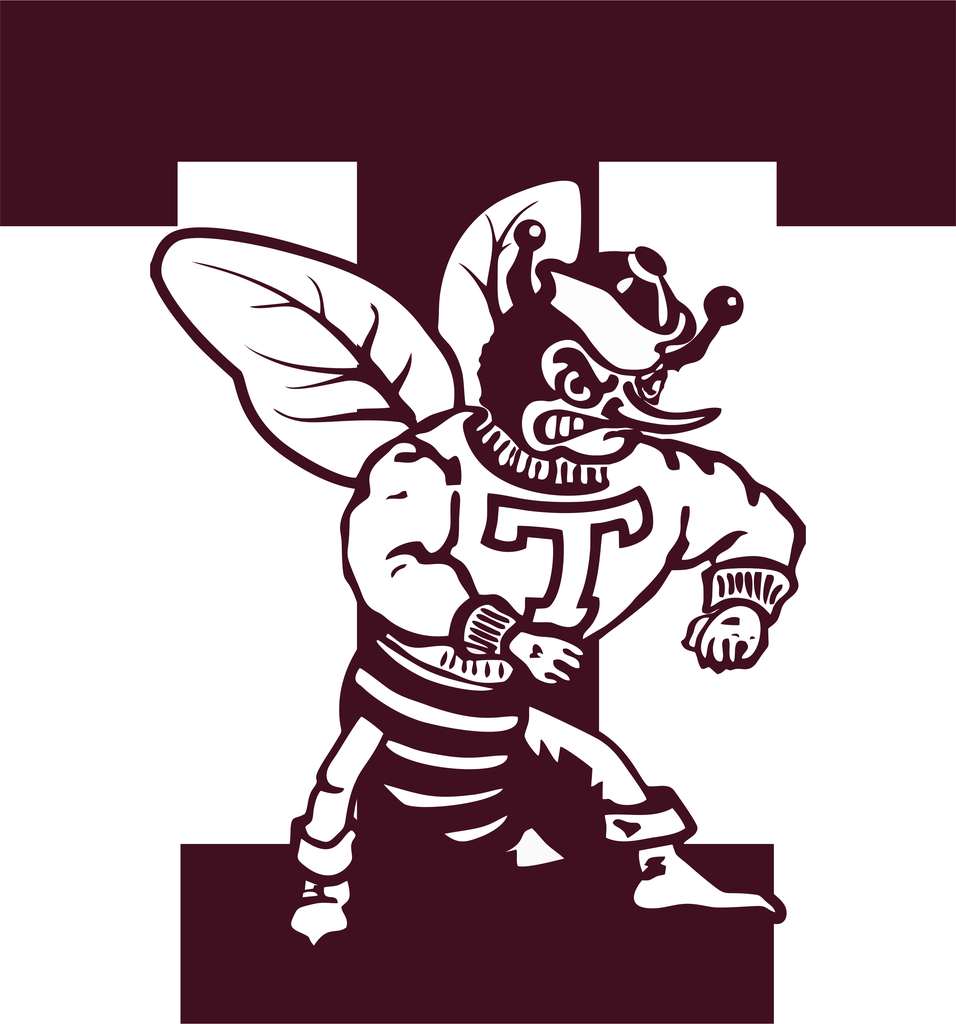 TULIA LADY HORNET VOLLEYBALL SCHEDULE CHANGE Due to the Area Band contest on Saturday at Lowery Field in Lubbock, the Varsity Volleyball game against Shallowater will be played on Friday afternoon at 3:45. JV Maroon will play at 8:00 a.m. on Saturday morning followed by JV White at 9:00. There will be no admission or concession stand for these games. This will enable all volleyball/band students to compete in the area contest.

ATTENTION TULIA HORNET FANS Tickets for the Junior High Football games on Thursday and the Varsity Football game on Friday at Childress can ONLY be purchased online. Follow this link: Childress Bobcats Ticketleap Page. Tickets for the JV game against Childress at home may be purchased at the gate - CASH ONLY.

The Tulia Lady Hornet Volleyball teams will play their District opener in Idalou this evening with JV teams starting at 5:00 followed by the Varsity at 6:00. GOOD LUCK LADY HORNETS AND COACHES!

The Tulia Hornet JV Football team takes on the Muleshoe Mules at 5:00 this afternoon at Younger Field. Come out and support these young men. It's a Great Day to be a Tulia Hornet Fan!!

Senior Pictures will be taken Wednesday September 15th starting at 8:00am. The senior pictures are the ones for the yearbook, and will be taken in the traditional marron suits for men and maroon shawl for the ladies. Under classmen pictures will taken on the same day. Flyer will be sent home with students as soon as they are received.

Freshman Nik Carrasco competed in the JV Football game vs. Floydada on Thursday night. Nik comes off the field after the game, changes into his Varsity XC Uniform to travel with his team to the WTAMU Twilight Run. Nik led his team to a Championship - 2-SPORT FALL ATHLETES DO EXIST!! Nik placed 2nd, followed by Hugo Briones, 3rd; Dadrien Subealdea 5th; Jayden Lopez, 6th; Anthony Lopez, 15th and Derrick Lopez, 19th.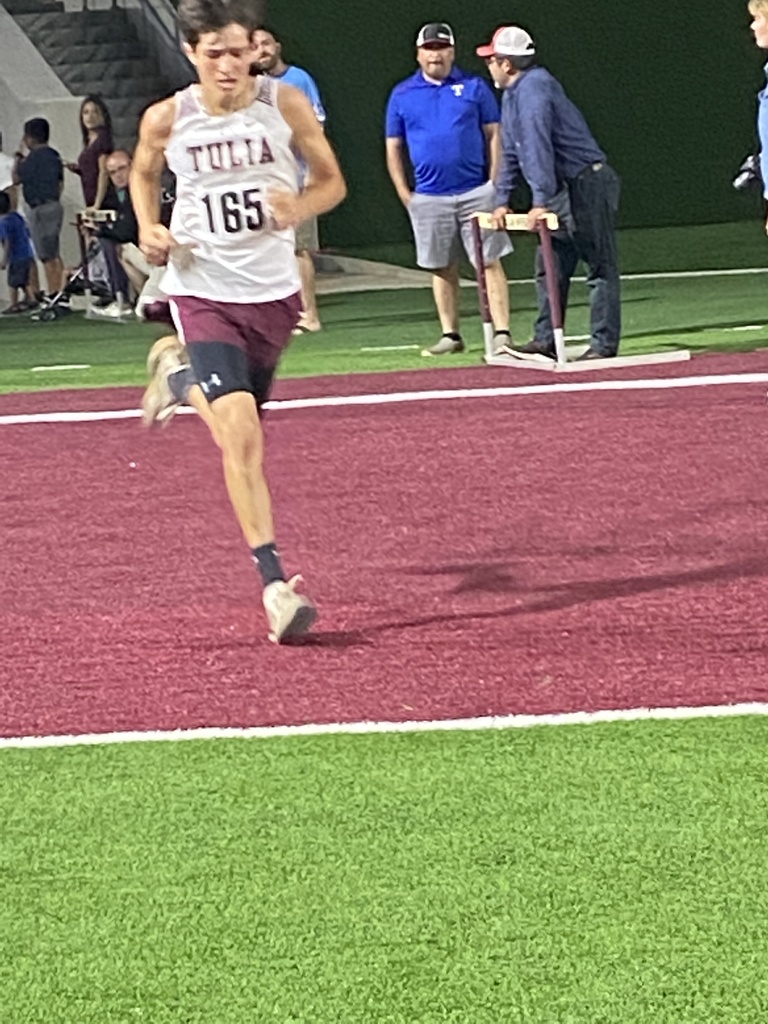 Tulia Hornets Varsity Football @ Floydada Whirlwinds 8/27/2021 7:00 p.m. All visitor fans will enter the northeast gate, north of the visitor stands. Visiting fans will park in the northeast parking lot off of Lee Street and enter the northeast gate. SHOW UP EARLY! BE LOUD! CHEER THE HORNETS ON TO A WIN!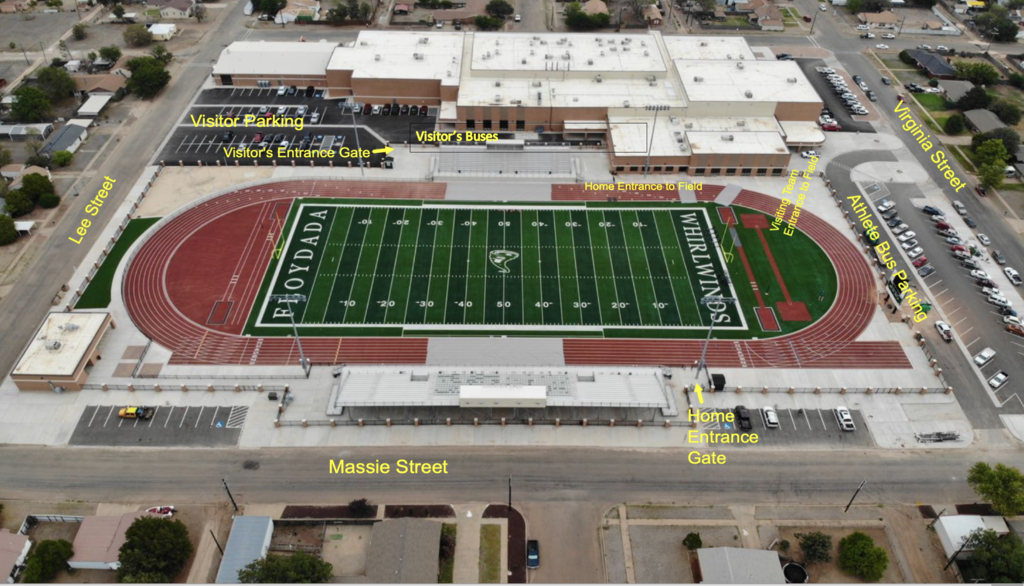 Tomorrow, Wednesday, August 18th is the FIRST DAY of school! We cannot wait to fill up these empty hallways and classrooms and hear the BUZZ that comes with welcoming back our Hornets! As a reminder, first bell at all campuses rings at 7:55 AM, and the tardy bell rings at 8:00 AM. See you all tomorrow!