Change of Schedule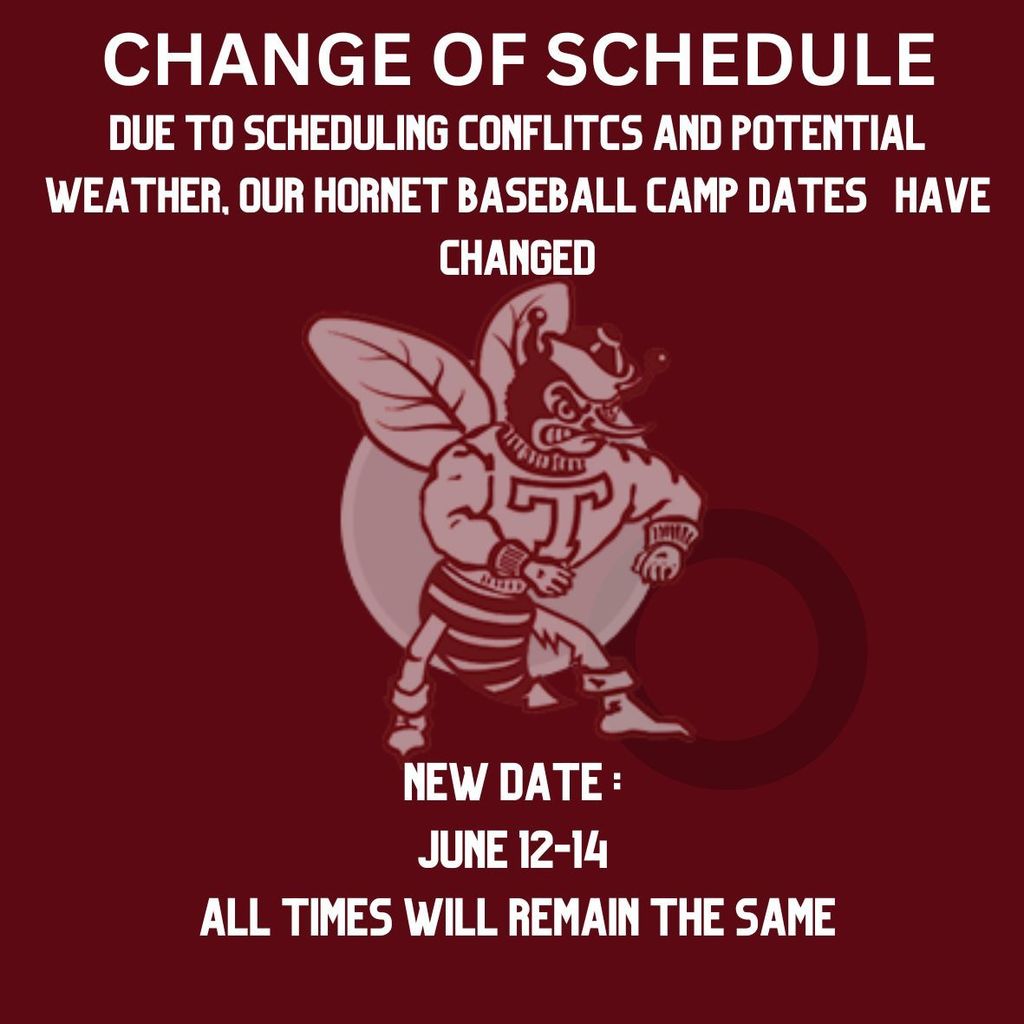 ***SAVE THE DATE*** 1st ever THS Volleyball Grass Bash is happening July 22nd! The tournament lay-out is a 4 vs 4 team that can be co-ed and a maximum of 2 current Lady Hornet players per team! There will be a concession stand available and podium places will receive a shirt and medal. Check-in starts at 8:00am and games start at 9:00. Come out and support the Lady Hornet Volleyball Program. Registration is open until July 19th and money is due at check-in on July 22nd. Please email me if you have any questions
stremulot@tuliaisd.org
! Use the link below to register your team!
https://forms.gle/s3N6pqStMP7sFmWr7

2023 Summer Strength and Conditioning Calendar !!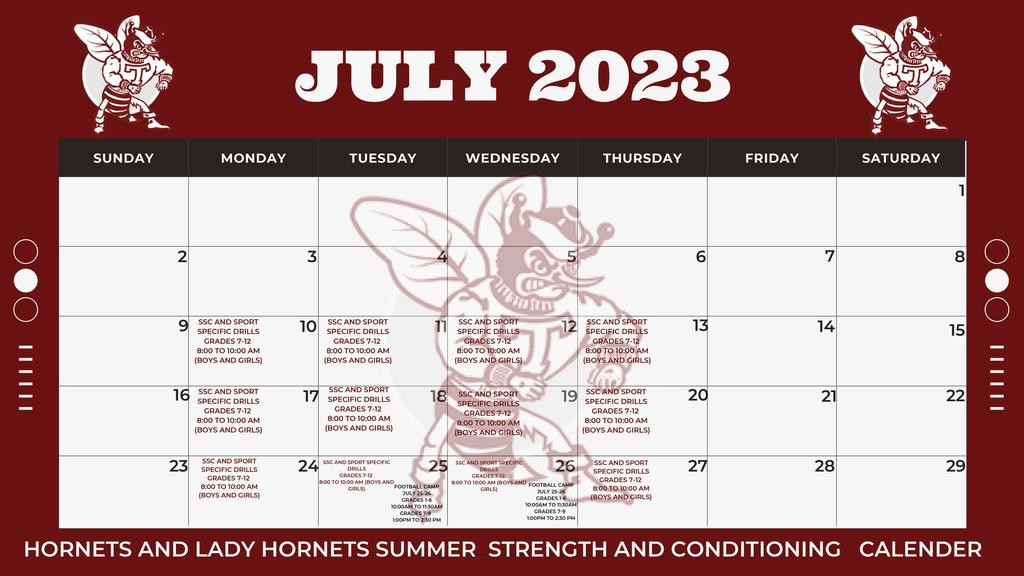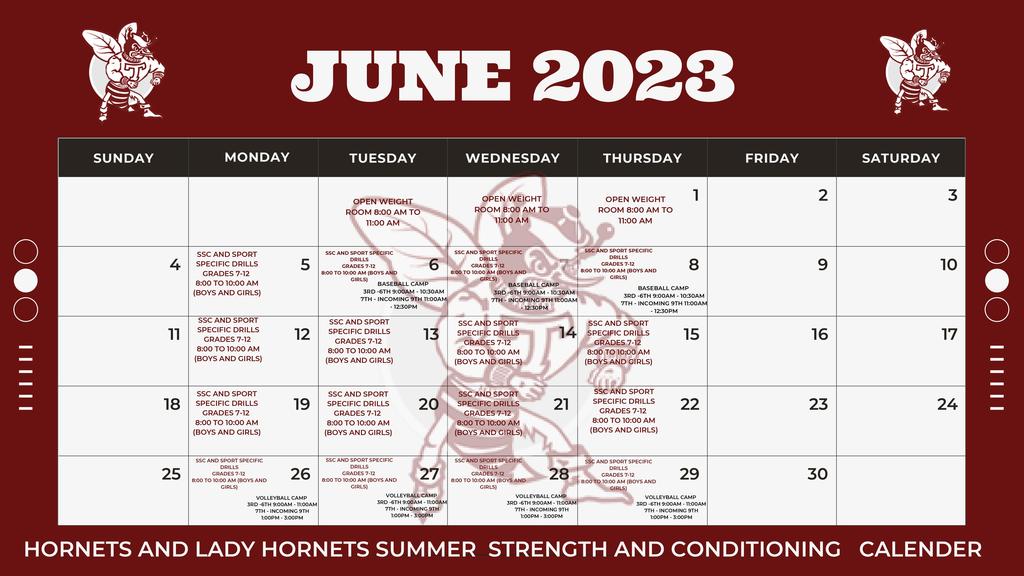 $10 physicals today Where: Tulia Rural Health Clinic When: 5/15/23 Time: 3:00 pm to 5:00 pm Who: Incoming 7th grade - 12th grade All students who will be participating in athletics and band will need a physical.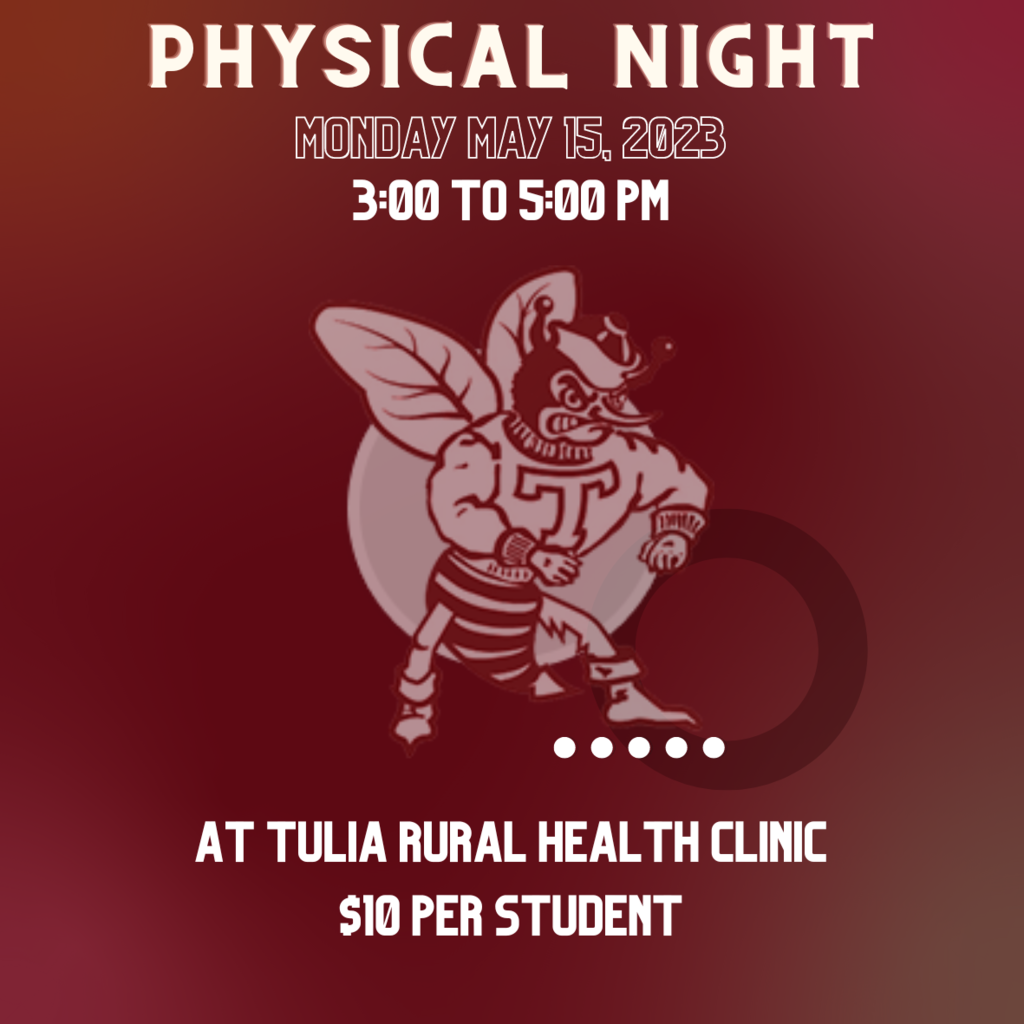 This year , Tulia ISD will be using Rank One Sport online forms. All athletes must complete these forms prior to the first day of practice. If you have any questions please fell free to contact the athletic department or your head coach.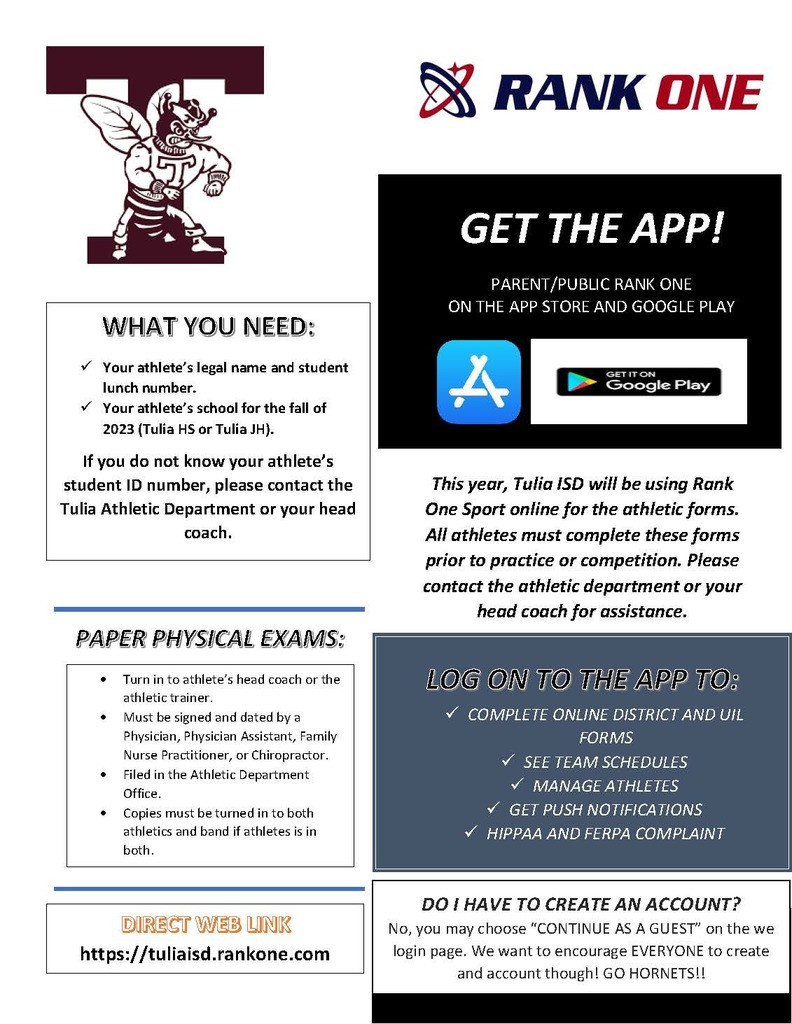 Physical Night: When: Monday May 15, 2023 from 3PM to 5PM Where: Tulia Rural Heath Clinic Who: All students who want to participate in Athletics or Band for the 2023-24 school year.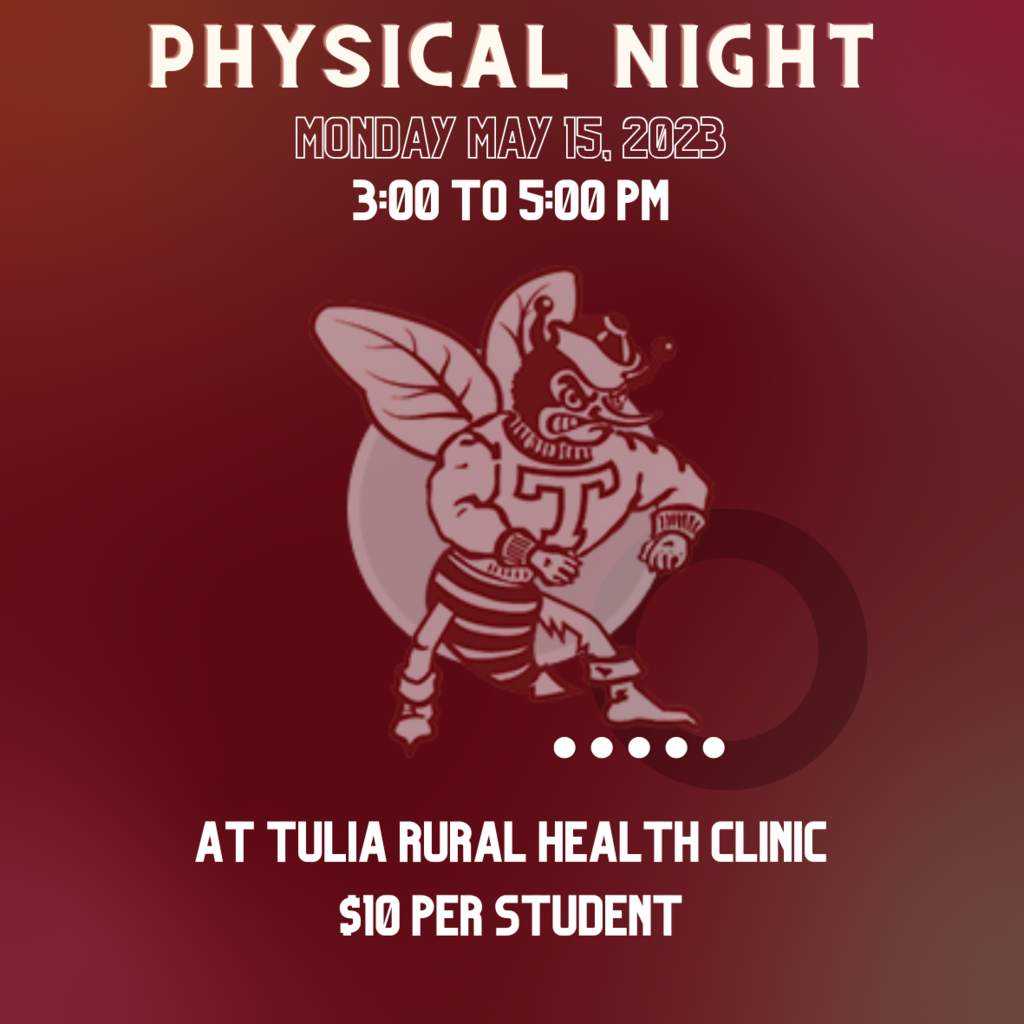 TISD Athletics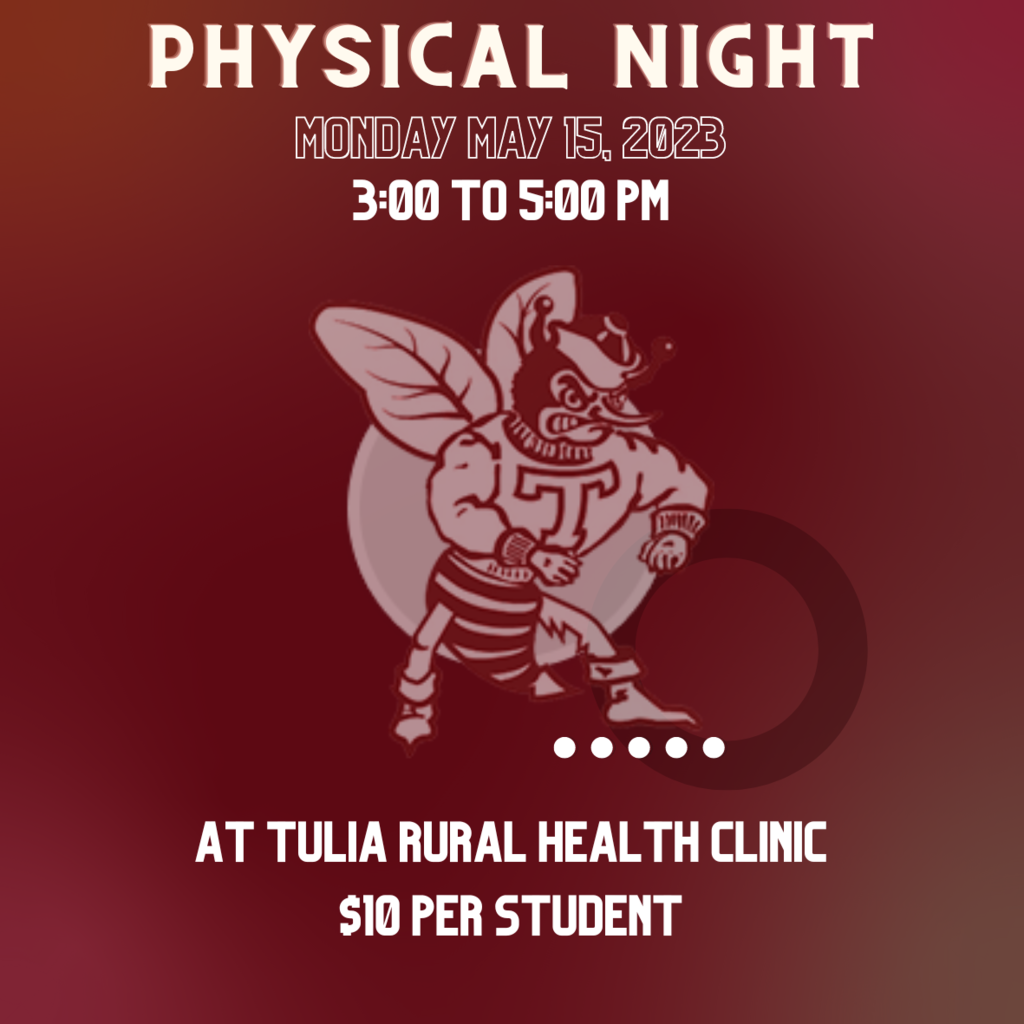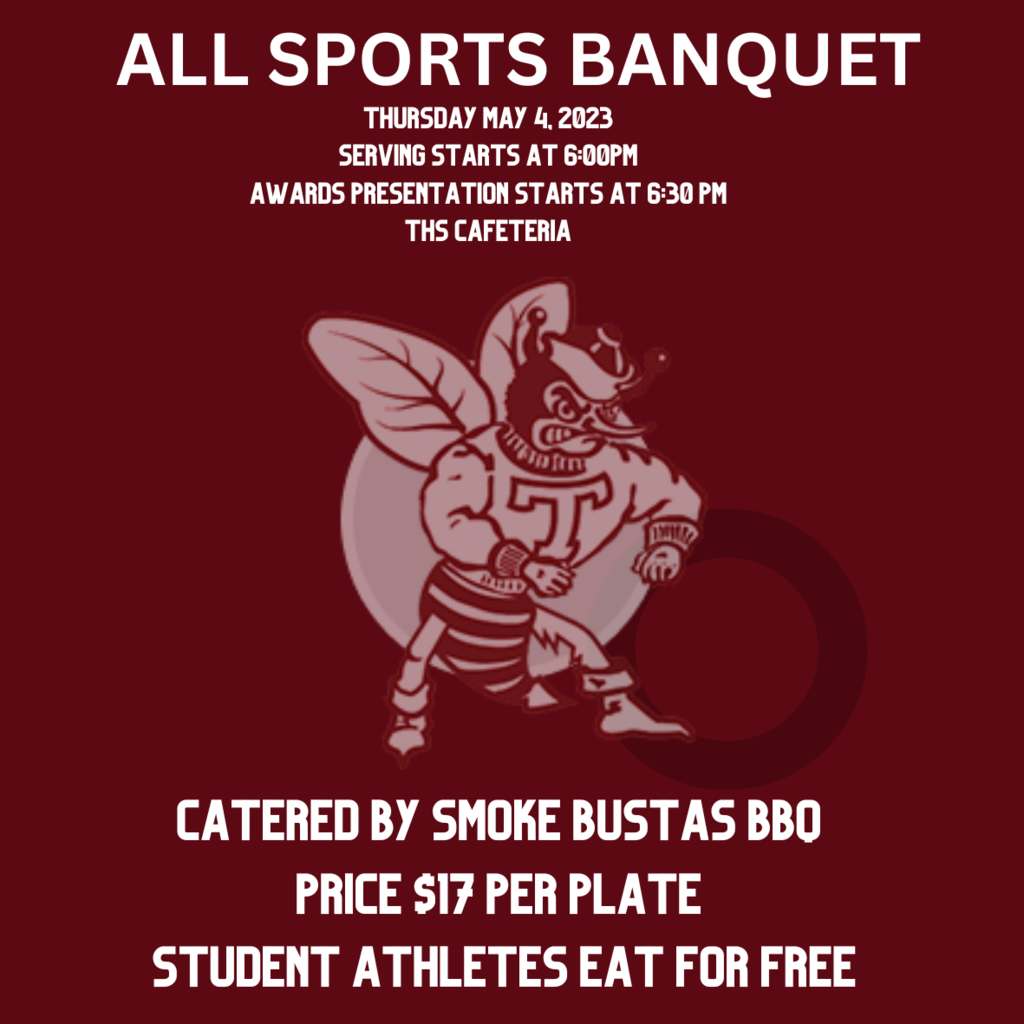 🚨Schedule Alert🚨 Due to the field conditions at our baseball field, the conclusion of yesterdays game vs Friona has been postponed till 6:30pm tonight and will be played at Plainview High Schools baseball field. Varsity players need to report to the baseball field at 4:30! Bulldog Baseball field 24th St and Yonkers Plainview, Texas

Physical Night Monday May 15, 2023 3:00 -5:00 PM At Tulia Rural Health Clinic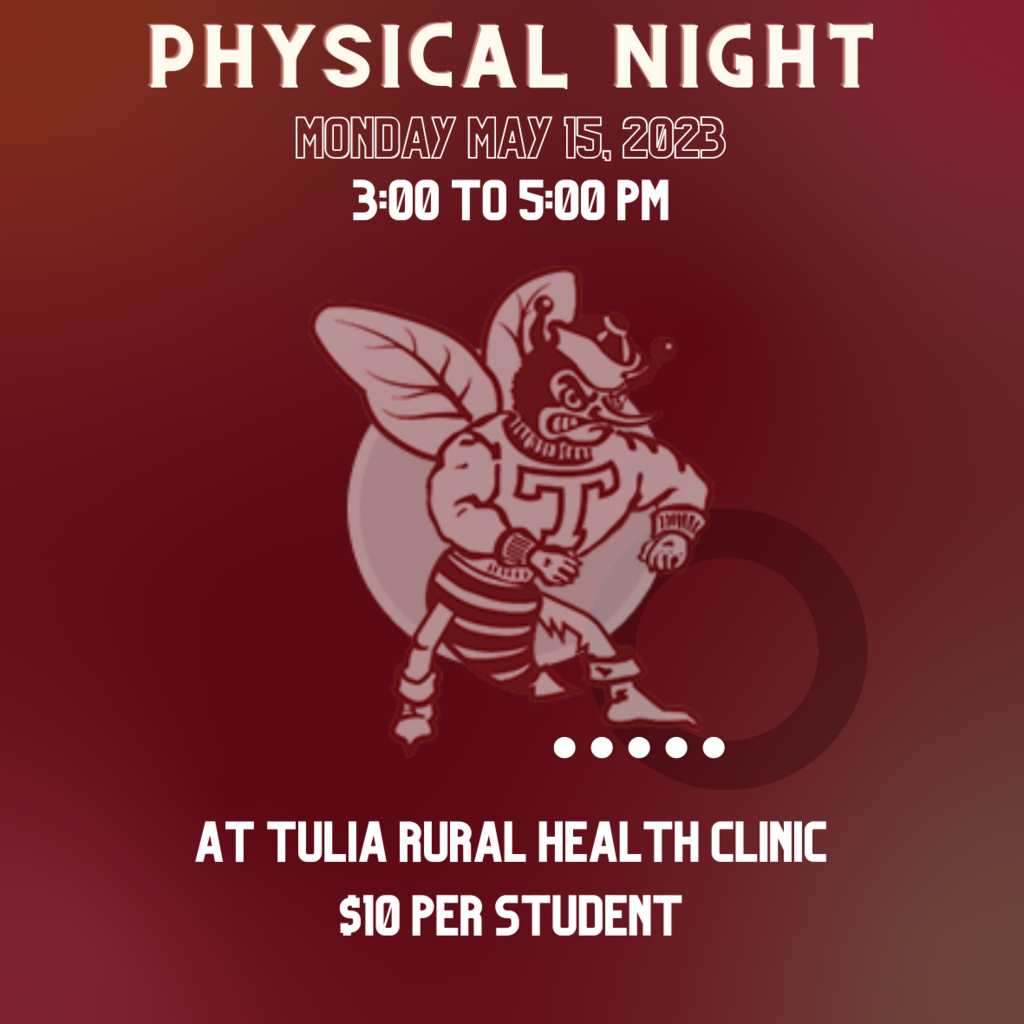 .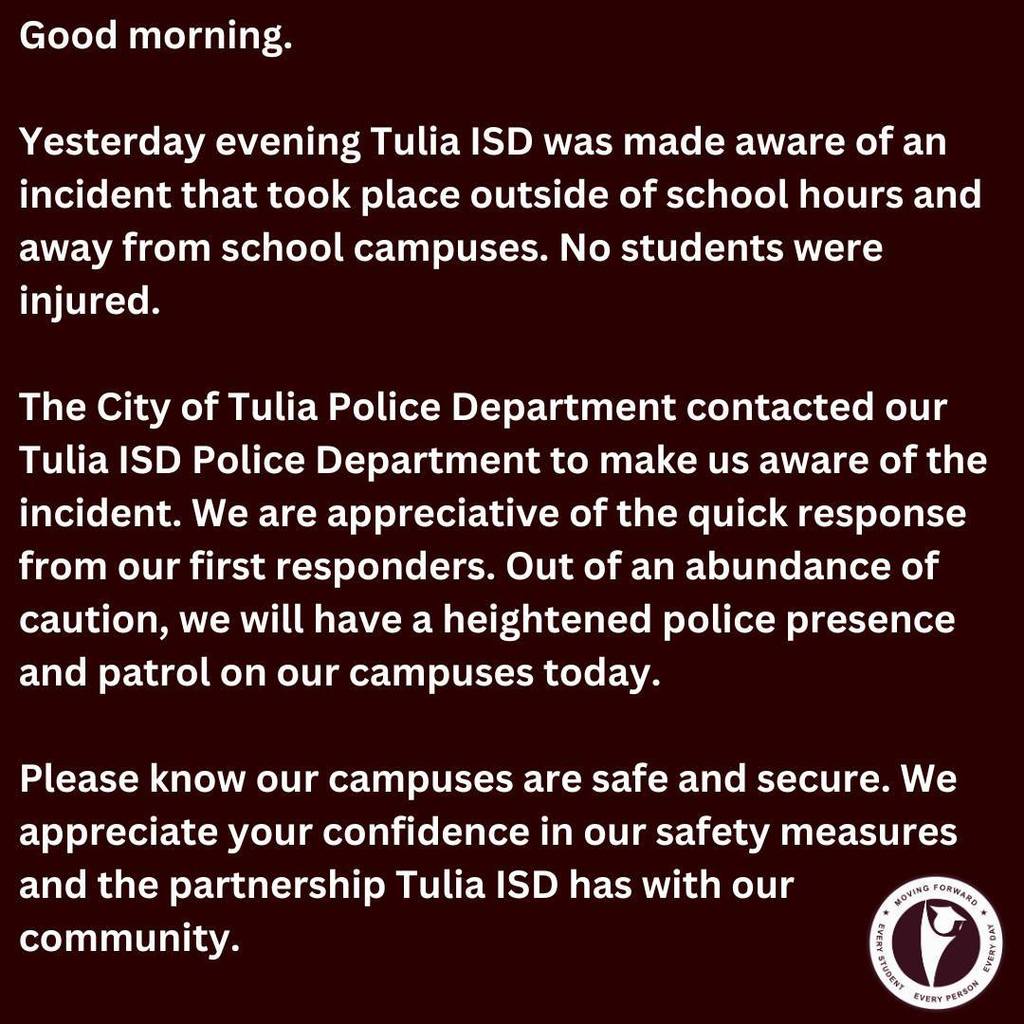 Hello Parents! Family engagement is always looking for ways to improve relationships with our parents and students. We feel that it is important to continue to build relationships in making sure that parents know the resources that Family Engagement has to offer. We have created a short parent survey, this survey will give our department valuable data on which areas need the most attention. If you have a minute, please take your time to fill our 2023 Parent Involvement survey using the link below. As always, thank you for your time.
https://docs.google.com/forms/d/1QUbwlyh0AoC_FkC8dselhIxEdujm6-_2joB8cZxHXSw/edit?usp=sharing_eip_se_dm&ts=6437340b

Due to the weather, the Lady Hornet softball game @ Bushland has been moved to Wednesday April 5, 2023, at 5:00 PM.

Due to the umpire shortage, the Hornet baseball game Vs Bushland has been moved to Monday April 3, 2023, at 5:30 PM. The game will be play at Amarillo High Baseball Field.

Our Hornets and Lady Hornets will be very busy ! Thanks again for your support of our student athletes. GO HORNETS!! #WINTHEDAY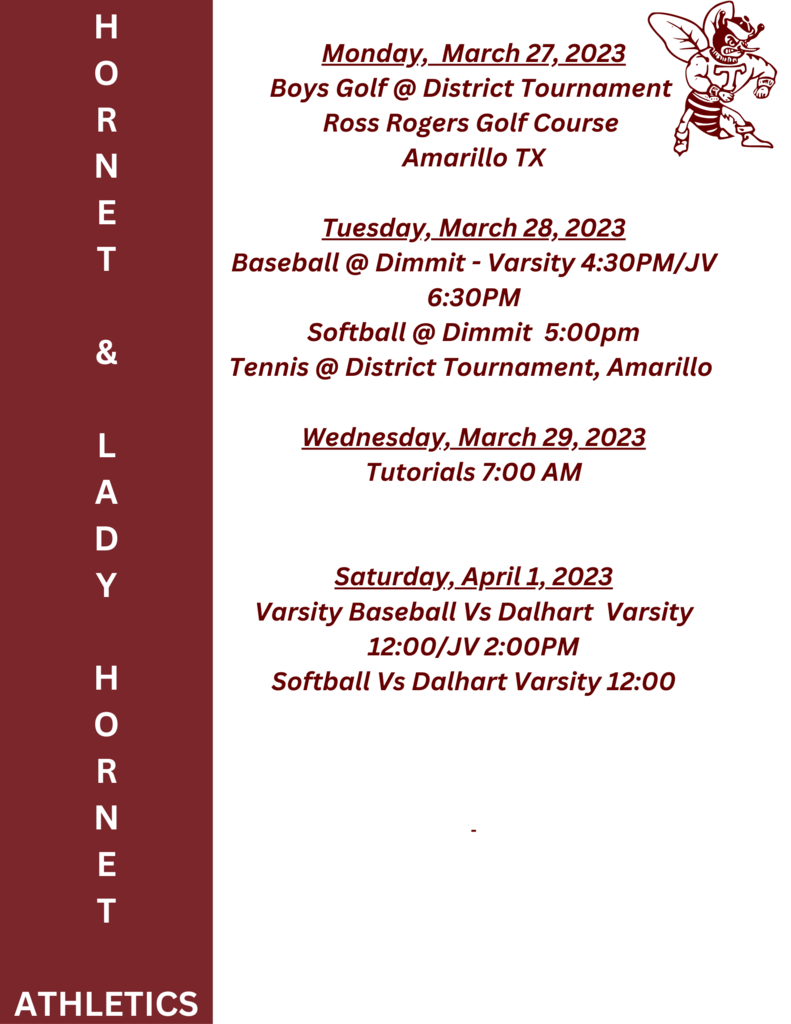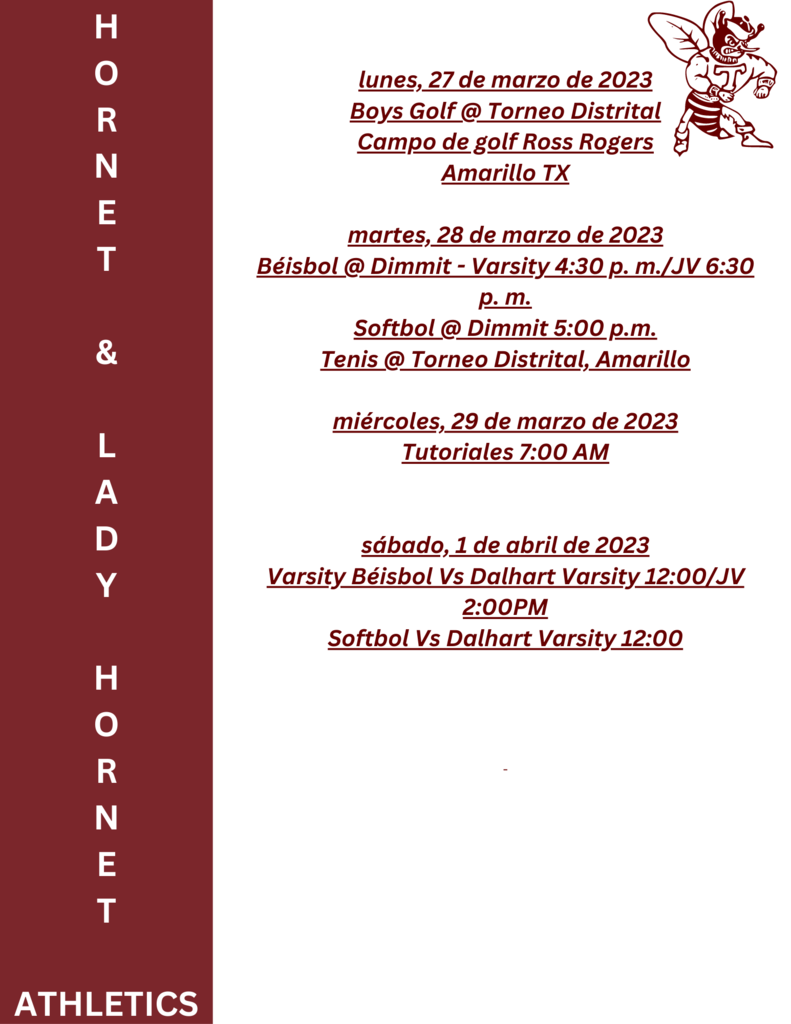 Press Release 3-9-2023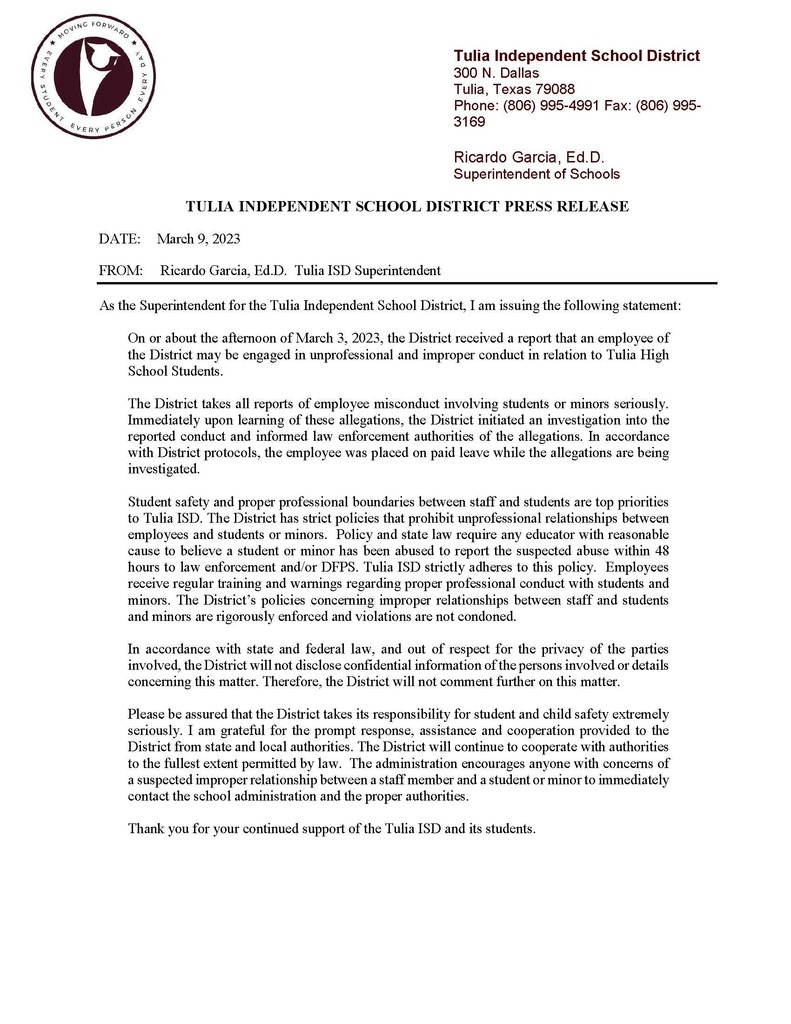 *ATTENTION* Tonight's Varsity Softball game time has been moved to 6:30 pm, to allow our athletes that are in band time to get back from their band contest in Panhandle.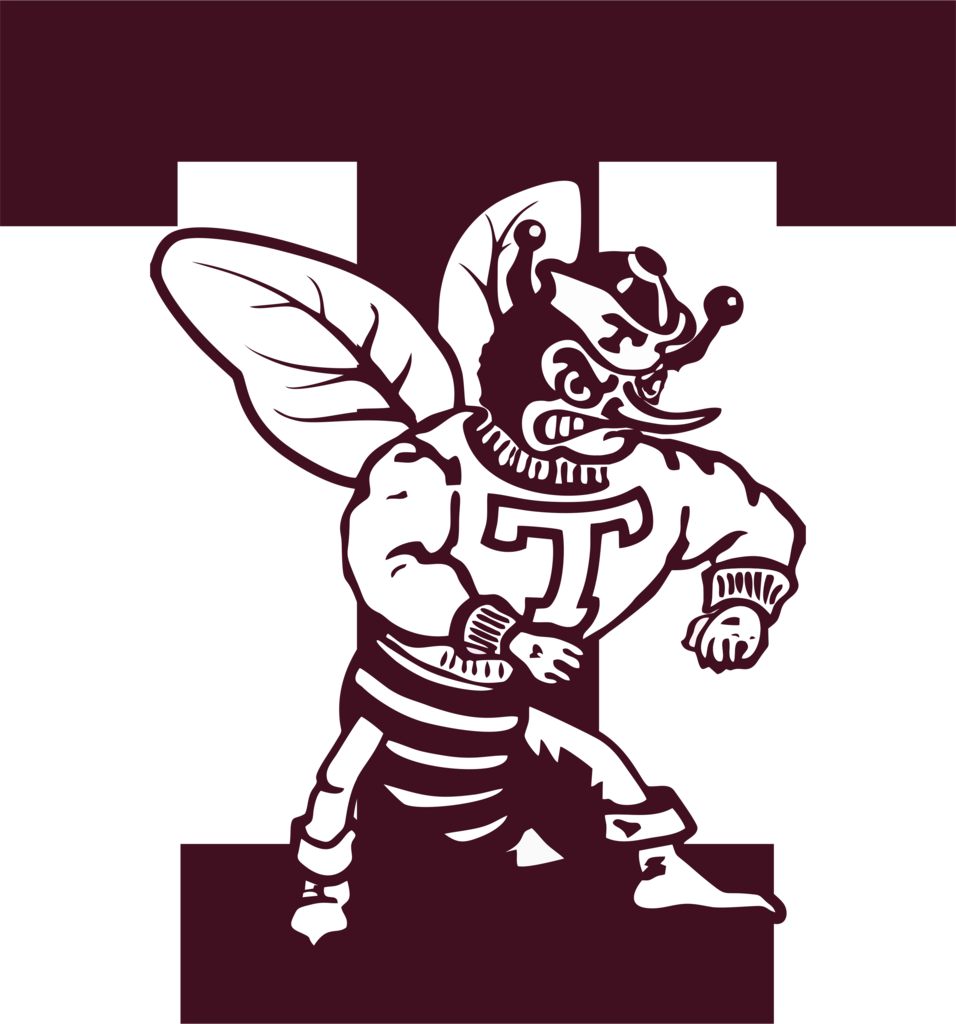 Our Hornets and Lady Hornets will be everywhere doing everything this week! Thanks again for your support of our student athletes. GO HORNETS!! #WINTHEDAY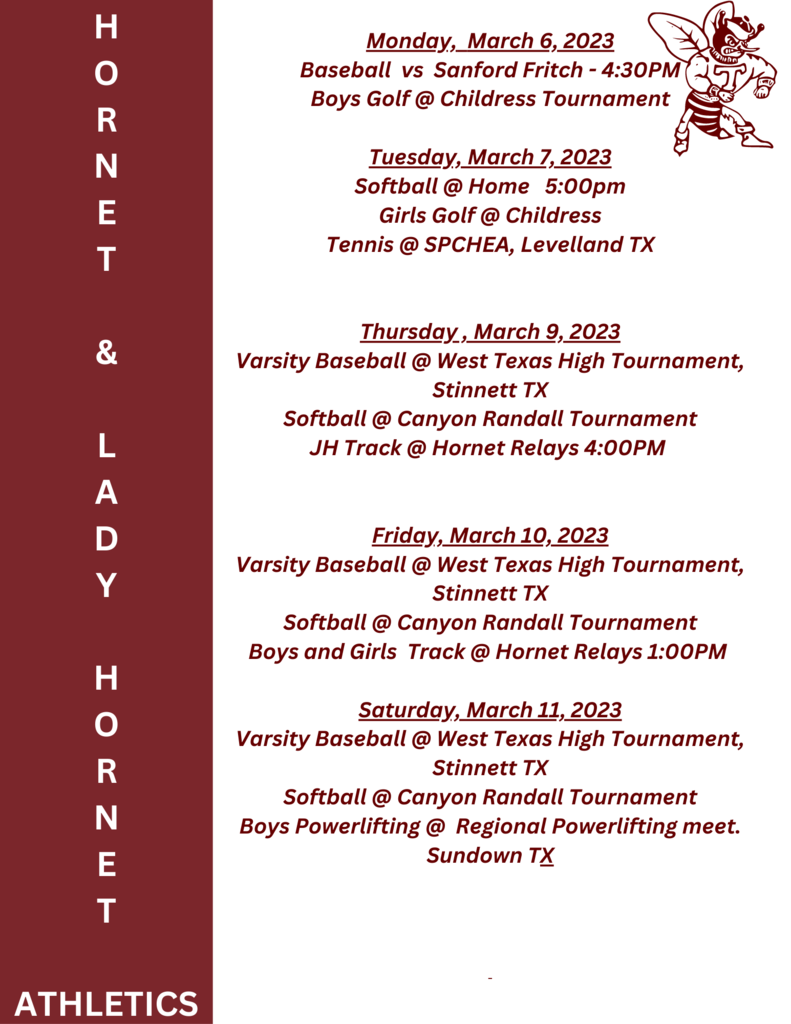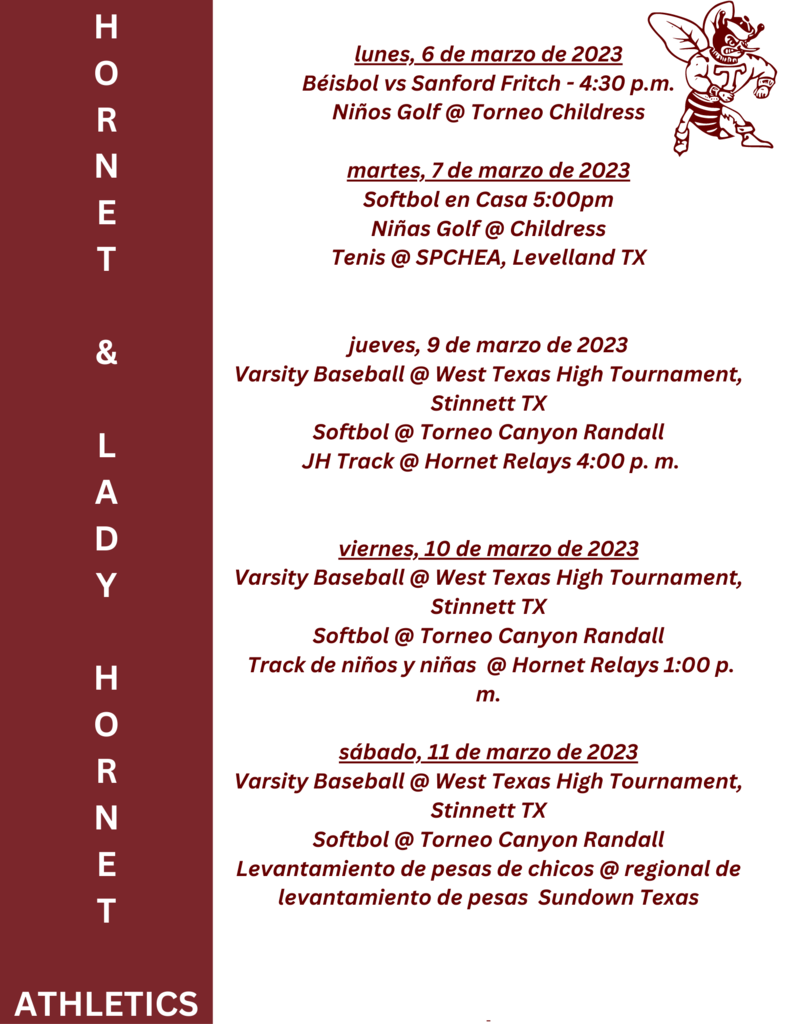 Our Hornets and Lady Hornets will be everywhere doing everything this week! Thanks again for your support of our student athletes. GO HORNETS!! #WINTHEDAY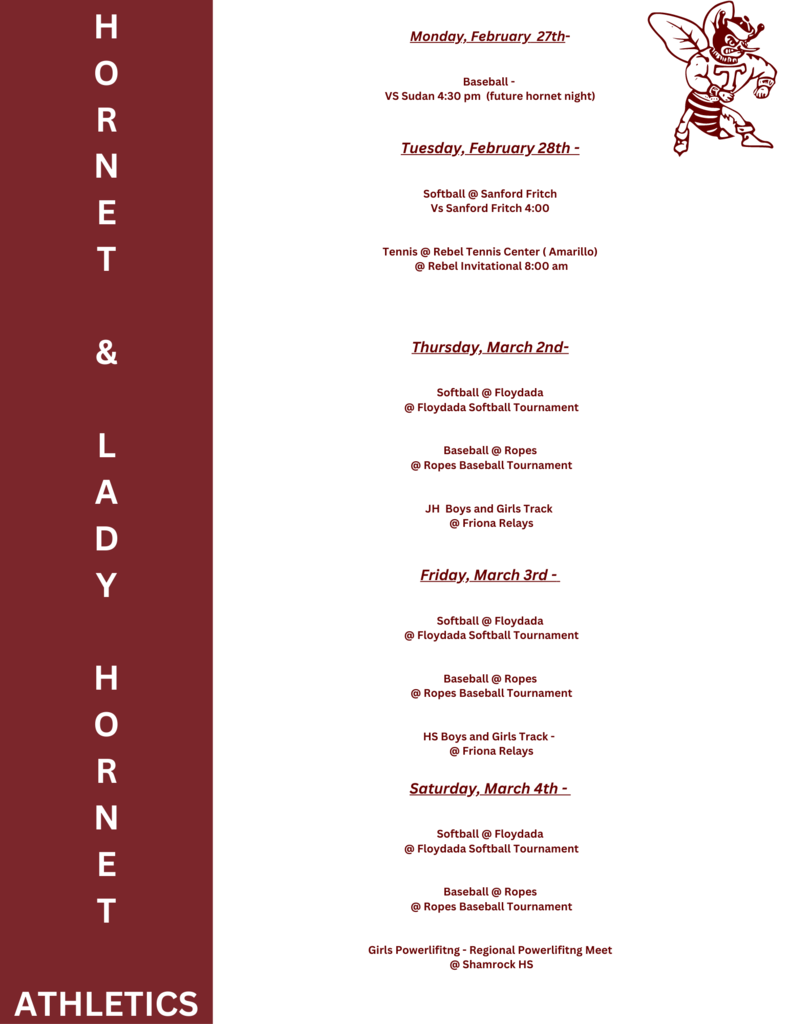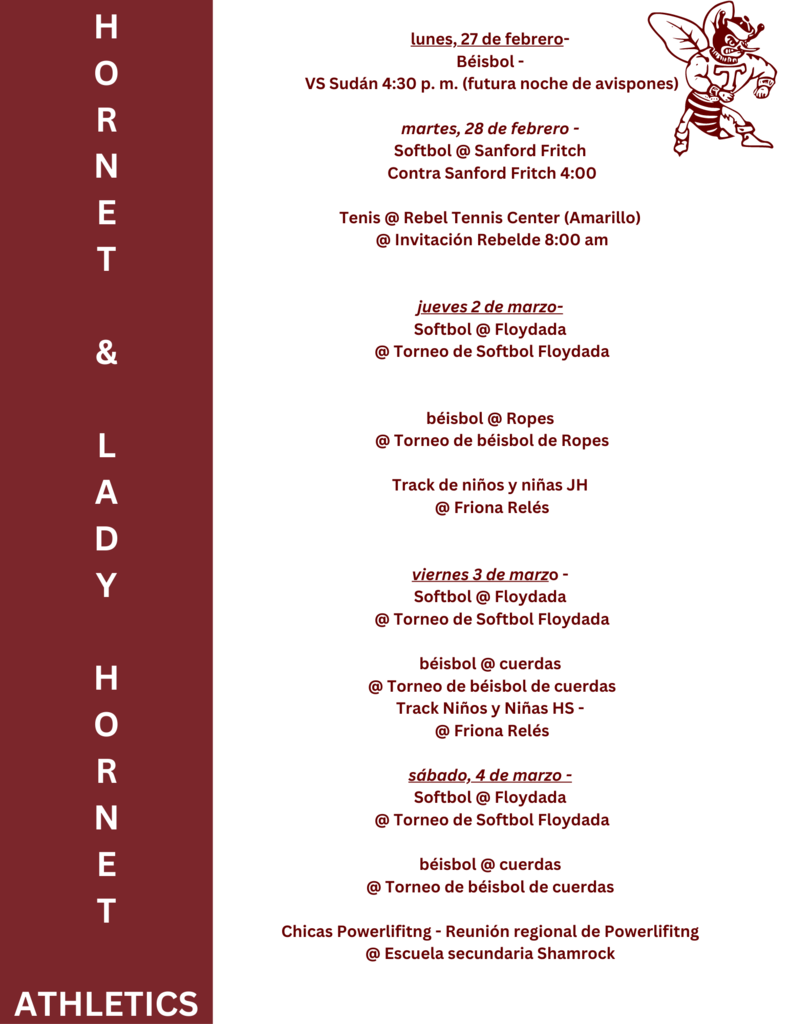 Tulia ISD is now accepting nominations for the 2023 Hall of Fame. The nomination Deadline is March 8, 2023. Follow this link to make a nomination:
https://5il.co/1ph8r